There was a time when online dating had a sort of stigma around it. It was considered dangerous, sketchy, and even a bit desperate. 
Well, those days are gone! 
Is this a good thing? A bad thing?
Could it be both?
It's important to remember that there are risks! We're sure you've probably heard plenty of horror stories about dating apps and the swipe culture.
To be completely honest, there are quite a few things you need to really think about before dating online.
But — virtual dating can also lead to a healthy and happy relationship if carefully and intentionally navigated. 
Did you know that over 30% of US adults say they have given online dating a try?
It's true!
Dating in the Digital Age
You probably envision dating as a night out to dinner or off to the movie theater. Maybe even a coffee date or a long walk hand-in-hand. In this day and age, it looks a bit different.
Especially for those dating 100% online. 
Even virtual dates are a thing now, and "hanging out" with someone doesn't even require you to leave your house as long as you have your phone on you.
We recognize that sometimes this can be a great thing — especially to help you stay connected during a busy season of life or if you're dating long distance. 
But this is where balance comes into play. A balance of in-person and online is crucial to nurturing a healthy relationship and developing a realistic view of your partner. 
The Positives of Online Dating
With the explosion of always-on-hand cellphones and social media connections, it's no surprise that dating online has become one of the most popular ways to initiate relationships. 
There are definitely some positives to online dating such as…
1. CONNECT IN LONG-DISTANCE RELATIONSHIPS
Long-distance relationships used to run on love letters via snail mail, emails, and long phone calls. Now, you can share special moments together with the tap of an app. 
For these types of relationships, Facetime is an answered prayer. It makes staying connected easy! 
2. HELPS IF YOU'RE SHY
Meeting someone new can be a bit scary and awkward. Especially on first dates! If you're someone who suffers from shyness or anxiety, or you're just naturally an introvert… meeting someone online first can help break the ice. 
Having some conversation before actually meeting can make the first date go smoother and help you feel more comfortable as well.
3. CAN MAKE DATING A LITTLE EASIER
It can be hard to meet new people, especially if you're working from home, live in a small town, or if you're a single parent.  
More doors are open to meeting different types of people with a variety of interests online. And it gives you the chance to test the waters in a safe space before actually meeting. 
Negatives of Online Dating
Where there are positives, there are also negatives. It's crucial to understand the negative side of dating online so you can be safe and aware. Even if it's not yourself that's considering dating.
Maybe your teenager is dating online and you are trying to guide them in how to navigate that relationship.
Here are a few negative aspects of dating online to keep in mind…
1. UNWANTED SEXUAL IMAGES & MESSAGES 
You see that you have a new message, and when you open it up, there's a vulgar and explicit image in it. It takes you by surprise and was definitely not something you wanted to see.
Unfortunately, you don't know until you see it. Sometimes it's not an image. It could be very inappropriate comments that are being sent your way.
If this happens, don't even respond. Immediately block them, and then report them.
2. DATING VIOLENCE 
Dating violence can be someone putting you under pressure to post or share sexual content. It could also be psychological aggression or verbal written abuse. Even playing mind games and giving you the silent treatment are all warning signs of an unhealthy, manipulative, and toxic relationship.
Steer clear of anyone who starts to do any of these things or pressures you to.
3. STALKERS & PREDATORS
Stalkers and predators can both pretend to be someone they're not. They hack into your social media and figure out personal information that can be used against you.
It's so important to set up boundaries as you're getting to know someone for this reason specifically. Don't give them too much information about your living situation, family, etc. too soon and use caution. 
Why Real-Life Connection Is So Important 
If you're only connecting online, this could be problematic in the long run. It's so important to balance real-life interactions to truly get to know someone and see if you're compatible as partners in life.
If you're 100% online, there could be problems because…
LIMITS IN-PERSON INTERACTION
It's good for you to get out into society, make friends, and have healthy experiences. But if you're dating online only, and this person doesn't know your friends or your life very well, you might find yourself skipping out on some of these activities to stay in and talk on the phone or chat online.
This isn't good at all! The right person in your life will encourage your friendships and connections outside of your romantic relationship. 
ACTS OF DATING ARE IMPORTANT
For me, a woman — having my door opened for me, my chair pulled out, or my date's coat offered if it's cold outside… these are all acts that have meaning.
As a man — having the opportunity to show these displays of affection is really tough if you're not in person. You need that time together, in person, to show the respect and kindness that your date deserves.
Here's a big one: If you're out at a restaurant, what happens when it's time to tip your server? 
How will that be handled? Are you splitting the bill or is one of you paying in full? Does your date tip the server? If not, that says volumes about how they show honor and respect to others. 
PROFILES AREN'T ENOUGH
You'll never be able to learn all you need to know about someone from their profile page. Or even by their likes, dislikes, comments, and other activity on social media.
Something can look perfect on paper (or on a screen) but feel wrong in person. And this is something to always remember while dating.
When you're together physically, you have an opportunity to observe this person. How do they treat others around them? Do they have good quality friends? Are they patient?
You'll never know these things until you're in situations and circumstances in person.
Here's a wonderful example of a couple who met online and navigated their relationship with these principles in mind. 
Meet Grant & Joanna
Grant & Joanna met on E-Harmony and are now happily married!
We had the privilege of asking them both a few questions about how they navigated their relationship.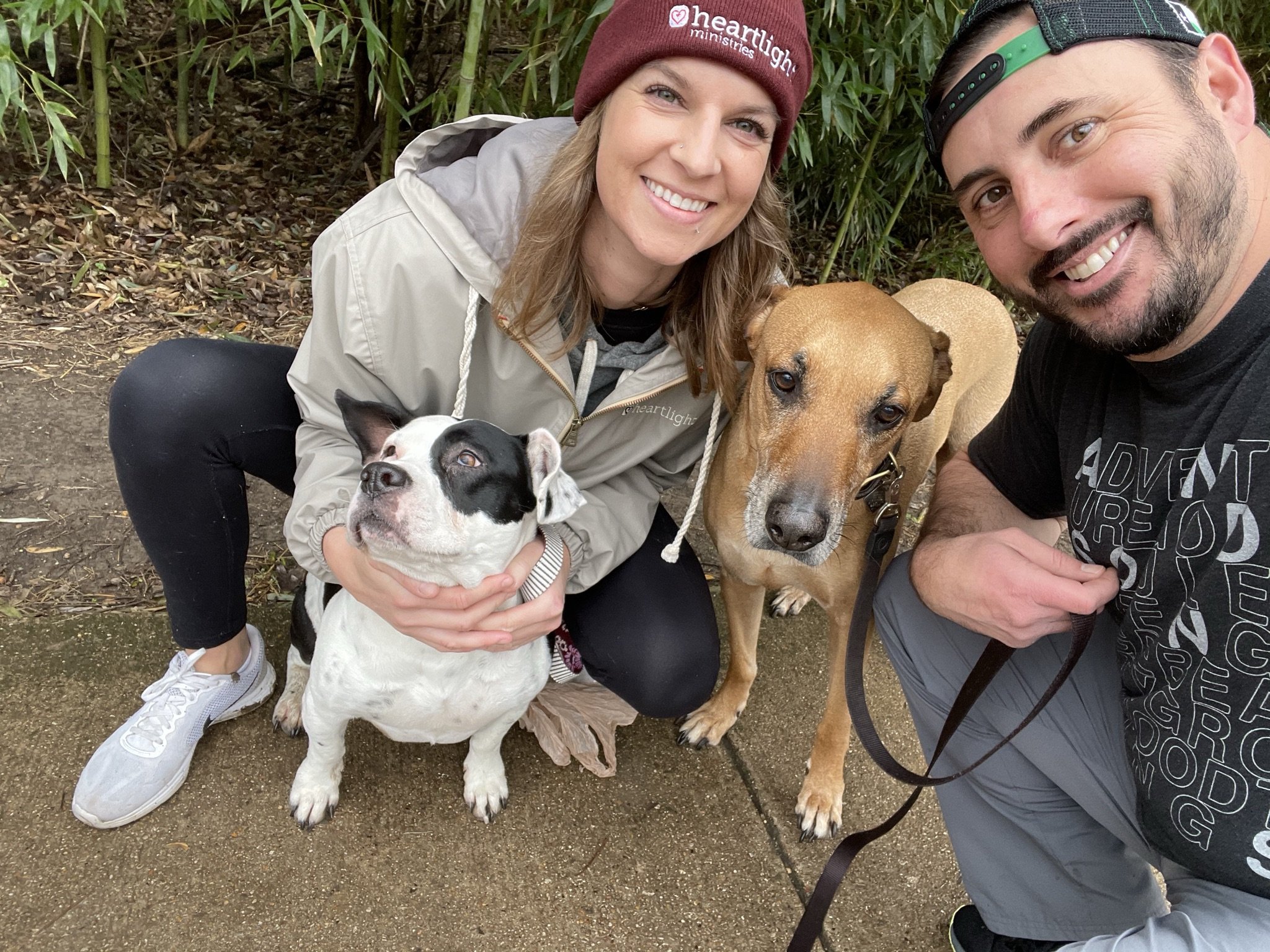 Q: How long or was your relationship ever 100% virtual?
A: We communicated through the app for a few weeks before we talked on the phone. We were only 100% virtual for about a month before we met in person.
Q: What concerns did you have about approaching dating online?
GRANT: I worried about the authenticity of the people and their motives. It's easy to act a certain way for a period of time. Not knowing the history or the reputation of a person was a big concern.
JOANNA: Well, no one wants to be catfished, so that was the first concern! Several friends of mine had tried online dating before I did and had really long, awful, and emotionally draining experiences. From a pragmatic standpoint, I wasn't sure that this would "work" and was afraid it would be a waste of my time and money. From an emotional standpoint, my answer looks like Grant's — I was afraid that other people would not be as genuine and honest as I was, and not having a history or mutual relationships to fall back on was hard.
Q: Would you say it's important to balance virtual and in-person time together? Why?
GRANT: It's important to get out of the virtual world and into reality as soon as possible because I feel like an understanding of who a person is, is important to learn, outside of the picture they've painted for themselves on the internet.
JOANNA: We dated long-distance, so while we weren't 100% virtual, we did have to be intentional in different ways since we couldn't spend a lot of time together in person. We made a point to see each other at least once a week though, which gave us a chance to see more of each other's lives, meet friends and family, and learn how to communicate outside of texting and phone calls.
Q: What is one piece of advice you'd give to someone (an adult or teenager) meeting someone online first and moving into a romantic relationship?
GRANT: Look for an online program that has a reputation for attracting people who are looking for the same thing you're looking for — a long-lasting relationship. And, be authentic yourself — be what you are looking for in others.
JOANNA: Know what (and who) you're looking for before you start. Having a clear picture of the character traits I was looking for in someone made it a lot easier to cut ties with anyone whose character, qualities, etc didn't align with that picture. It also helped me not be disappointed when a conversation fizzled and helped me not get emotionally attached to anyone prematurely. Also, be smart and safe. People make a lot of jokes about "stalking" someone online to make sure they're legit. Short of doing a background check, I think it's ok to do a little research. 🙂 I did with Grant before we met in person! I wanted to make sure that anything I found about him online lined up with what he was telling me. Also, when you decide to meet for the first time in person, pick a public meeting place.
Q: Reflecting back, what was something you're thankful you did while dating?
GRANT: I am thankful for putting God at the center of this process instead of what I thought I wanted or needed. I made that clear on my profile and was very intentional about that when I started the online process.
JOANNA: So many things! I'm thankful that we were both so direct and clear about our intentions from the beginning (looking for someone with shared faith, common interests, and similar purposes who I can marry!). I'm really grateful that we got to know each other's friends and family during the dating process. We were very open about our past and our struggles. We also sought out a mentor couple (pastors from Grant's church). They were very helpful in walking us through difficult conversations and later guided us in premarital counseling. 
The Bottom Line
Dating is already a rollercoaster in itself but add the twists and turns of technology — and you might need a little guidance. We encourage you to take some of Grant & Joanna's advice and apply it to your relationships. 
Always focus on the long run and the future you want to build with your life-long partner.